C.E.O of PPA, Dr. A.B Adjei sweeps two prestigious awards at APSCA 2018
The Chief Executive of the Public Procurement Authority Dr. A.B Adjei on April 20, 2018 received two prestigious awards at the Africa Public Sector Conference and Awards (APSCA) 2018 held at the Radisson Blu Hotel & Convention Centre in Kigali, Rwanda.
The Authority was honoured for its Outstanding Contribution to Public Procurement in Africa and Dr. A.B Adjei received a special award which recognised him as one of the Top 50 Africa Public Sector Leaders among distinguished personalities like the President of Rwanda -HE Paul Kagame, the First Lady of the Republic of Ghana, the Hon. Minister for Gender, Children and Social Protection of Ghana and the C.E.O of Electricity Company of Ghana.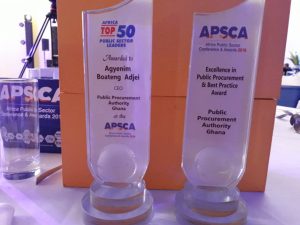 Dr. A.B Adjei at the Conference reiterated the importance of infusing innovation in the management of the public sector. According to him, the Authority as a result of recent interventions introduced in the area of Due Diligence and Value for Money initiatives has been able to realize a whooping sum of over 200 Million Dollars as savings for the government of Ghana as part of its approval processes for Single Source and Restricted Tendering Applications submitted by Procurement Entities.
"It is not right for any leader in the Public Sector to just throw their hands in the air and express frustrations when it faces challenges, leadership must be able to show the way proffer solutions to any institutional challenges" he said.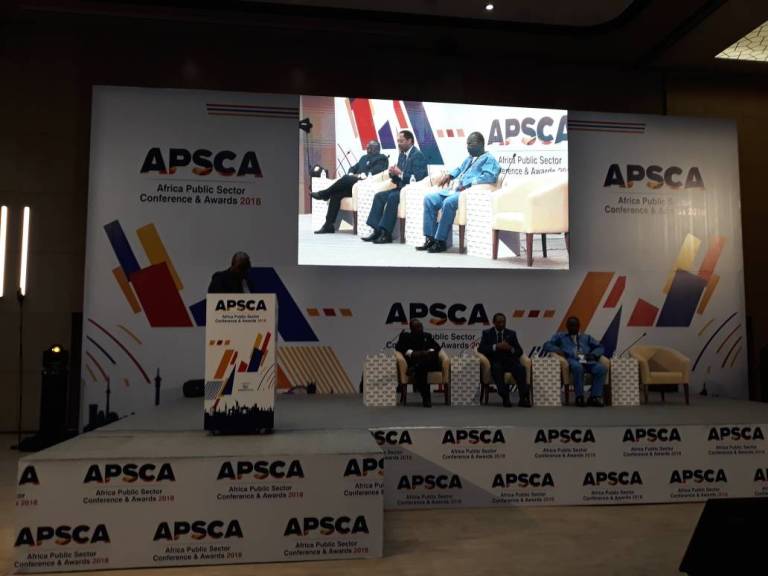 The Conference and Awards brought together the leaders in the Public and private sector with opportunities to build and share partnerships, share insights on strategies, policies and best practices that will drive efficient and smarter public sector delivery in Africa.
The PPA Delegation made up of its Board Chairman, Prof. Douglas Boateng and other Board Members and Management also took the opportunity to pay a courtesy call on its counterpart body -Rwandan Public Procurement Authority (RPPA) and shared experiences on e-Government Procurement and Procurement Audits that the two countries have been embarking on in recent times.
Commenting on the award Dr A.B Adjei said he is humbled with these awards of recognition and that the PPA is more poised to protect and safeguard the public purse which is in line with the President's vision for Ghana.
PPA remains resolute to position itself as a world class public procurement management institution and become a shining example for other procurement regulatory authorities in Africa and beyond.
Source: www.ppaghana.org